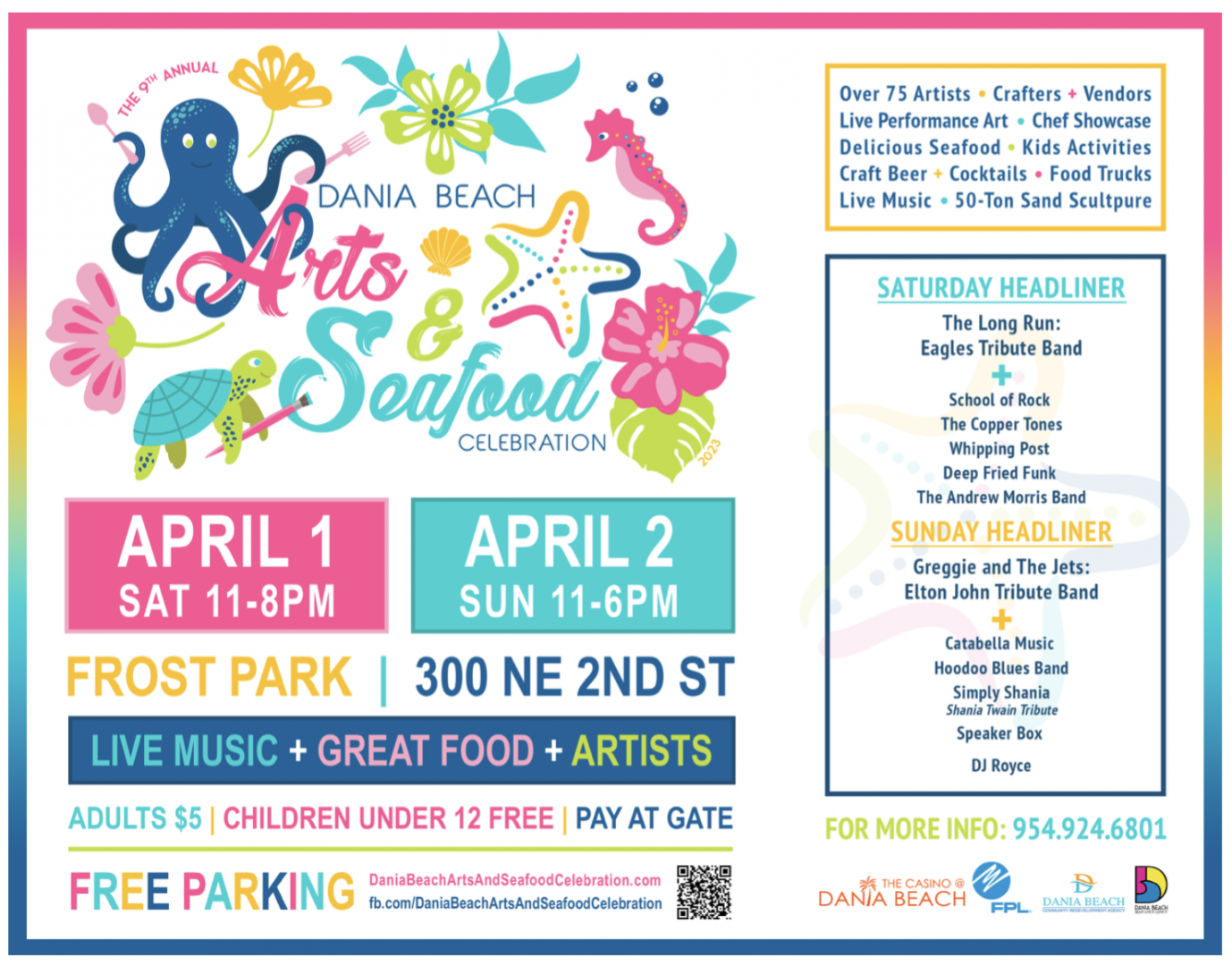 Get ready for your weekend of nonstop fun. The award-winning Dania Beach Arts and Seafood Celebration presented by the Dania Beach Community Redevelopment Agency (CRA) kicks off on Saturday April 1st from 11:00 am to 8:00 pm and Sunday April 2nd from 11:00 am to 6:00 pm at Frost Park, 300 NE 2nd Street, Dania Beach. The usual phenomenal musical lineup, art, and tasty culinary delights are once again being offered to event patrons. The event promises to be a two-day action-packed experience. 
This year there will be a small admission fee of $5.00 for adults. Children under 12 years of age will be admitted free of charge. Patrons will be given color coded wrist bands each day to enable them to leave and reenter the event. Parking remains free and is provided courtesy the Casino at Dania Beach. 
" With the rising cost of all services nationwide, the CRA in an effort to provide the same great event, is charging a small admission fee to assist with offsetting production costs. Our patrons expect a great event with all the unique elements, and we plan to deliver our usual exciting event. We will have music of various genres, performance art, our culinary chef showcase, fine artists and crafters, and the magnificent sand sculpture being developed over the two days. We invite our community and patrons to attend and continue to support the event". said K. Michael Chen, Executive Director, Dania Beach Community Redevelopment Agency. 
The Starfish Main Stage, sponsored by The Casino at Dania Beach, provides round the clock live music with great bands. On Saturday April 1st ,come early and enjoy, School of Rock, The Copper Tones, Dania's own classic rock band; Whipping Post, Rhythm and Blues will be showcased by Deep Fried Funk, and the Andrew Morris Band, a thrilling Country Music Act. The event headliner celebrates American rock hit makers, the Eagles, winner of five American Music Awards and Six Grammys. The Long Run will deliver a melodious performance of the Eagles greatest hits. 
On Sunday April 2nd,our tribute band will honor Sir Elton John, the all-time British and World Music Superstar. The event Grand Finale is to be presented by Greggie and the Jets, a tribute to the "Rocket Man". Sunday's earlier line up features an abundance of talent such as Catabella Latin Stylings, Hoodoo Blues Band, Simply Shania - a great 
solo tribute to Shania Twain, and the lively presentation of Rhythm and Blues by Speaker Box. 
Returning as Master of Ceremonies is Kimmy B, South Florida's Morning host on Hits 97.3 fm, Poet and Spoken Word entertainer, Jerris "Quick" Evans, joins Kimmy B this year to host the event. 
Dania Beach's own DJ Royce keeps the beat thumping both days between live musical performances. 
As usual, our returning and new artists, artisans, and crafters are on Fronton Boulevard and in Frost Park Field with unique affordable art pieces. Attendees may view and purchase art and other craft items throughout the weekend. This is a juried art show and artists have a chance of winning the Best in Show prize of $500.00, and four honorable mentions in the amounts of $250.00 each. Artists should register now to be considered for the show. Payment for booths must be received by March 10, 2023. 
Headliner for the Chef Showcase is Chef Johnny Alarcon Ruiz, head chef at the Casino at Dania Beach who is well known for his delectable servings at the Casino's Lux Buffet. Joining Chef Ruiz is NBC 6 South Florida Anchor, Chef Charney Amhara. Chef Amhara is an Emmy®-award winning journalist who currently anchors the station's weekend morning newscasts, NBC 6 News Today at 6 am and 8:30 am. This local celebrity chef will share her culinary skills dishing up a delightful blend of Latin American and Jamaican cuisine. 
Returning to our showcase kitchen is Chef Dherlie Cox and Chef/Baker Shana Benson. Our showcase fans are in for an exciting array of foods, as tasty bites may be sampled from culinary artists creations. Bring your appetites to feast on delicious food. 
There will also be a variety of food to purchase and enjoy over the weekend. Food concessionaire, Professional Concessions Inc. invites your tastebuds to a diverse selection of meal options. Get ready for some mouthwatering offerings from, Florida Fine Foods, Real Maine Lobster, Florida Juice Company, Frogu Yogu Gelato, 681 Seafood, Chick n Cone, Joey's Ice Cream, MoMos Funnel Cake, That's Amore Pizza, Farm Fresh Corn Roasting, Popo's Seafood, Alpine Fruit Ice and many more. 
The skill of creating an art piece will be on display as the live performance art theater features Marcos Conde. 
Team Sandtastic returns to create their masterpiece sculpture over the two-day event. Attendees have the opportunity to experience the evolution of the sculpture from a mound of sand to an artistic work of genius. Everyone is welcome to take their own souvenir photos and selfies of the work in progress and the completed sculpture. 
This year's souvenir poster will be unveiled through social media and on the event website. Make sure to come by our CRA event information booth and be prepared to purchase iconic souvenirs, tee shirts, and PATCH plants for your kitchen garden. 
The Friends of the Library are preparing their usual fun filled booth for the event. 
Fun activities for children will abound at the Kids Funville including arts and crafts, The Choo Choo Train, face painting, a visit by an aquatic character, and other surprises. 
For more information on scheduled performances, visit www.daniabeachartsandseafoodcelebration.com, call 954-924-6801 or email cra@daniabeachartsandseafoodcelebration.com. 
Schedules subject to change.